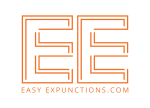 LOG IN TO YOUR ACCOUNT
Create account
Disclaimer
By registering for an account on easyexpunctions.com, I do hereby affirm that I am the individual named in the registration form.
Although easyexpunctions.com makes every effort to ensure the accuracy of the information provided, easyexpunctions.com is limited by the accuracy of the data provided from public and private third-party entities. Neither easyexpunctions.com nor any agent or employee of easyexpunctions.com, warrants the accuracy, reliability, or timeliness of any information on this web site and shall not be liable for any losses caused by such reliance on the accuracy, reliability or timeliness of such information, including, but not limited to incidental and consequential damages.
This publication is provided "as is" without warranty of any kind, either expressed or implied, including, but not limited to, the implied warranties of merchantability, fitness for a particular purpose or non-infringement. The information provided above is not a substitute for the advice of an attorney. You should consult an attorney regarding your rights under the law. Any person who relies on information obtained from this website does so at his or her own risk.
Please note: Although our databases are updated frequently, because your case status may change at any time, the case information displayed may not be completely current or accurate. If you have any questions about the case status shown, you should verify the information with the official case record.
I have read and understand this Disclaimer and accept responsibility for the use of the information provided.